Market Spotlight: Evanston with Paul Waterloo
Evanston Overview
Located just 12 miles north of downtown Chicago, Evanston is located in Cook County on the shores of Lake Michigan. Evanston is a vibrant and diverse community that boasts a rich history, cultural diversity, excellent schools, and a thriving business district. It has a population of approximately 78,000 and covers an area of around 7.8 square miles. The town features several miles of stunning Lake Michigan shoreline, which is home to several public beaches, parks, and nature preserves. Evanston is also home to the prestigious Northwestern University, which attracts students from all over the world. The university offers a number of cultural and athletic events throughout the year and is one of the town's largest employers. Downtown Chicago is easily accessible from Evanston by public transportation, with several Metra and CTA stations located within its borders.
How's the Multifamily Investment Market in Evanston?
As a broker, this is a common question we receive from investors. In my opinion, the only accurate way to answer this question is to let the numbers tell the story. With this in mind, our team closely monitors multifamily sales data. Let's take a look at some key metrics over the last 5 years in Evanston for all multifamily sales ranging from $1,000,000 to $50,000,000*.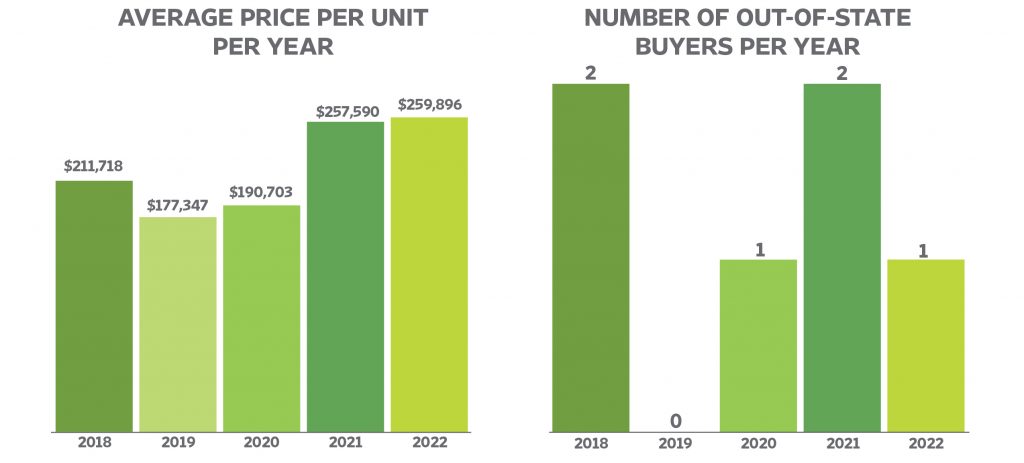 What conclusions can be drawn from these metrics?
2022 was a historic sales year for Evanston, achieving its highest number of transactions, highest sales volume and highest average price per unit over the last 5 years.

It's noteworthy that 6 of the 13 transactions in 2022 closed from August onward and the combined sales volume of these transactions accounted for 57% of the yearly volume. This shows the heightened interest rates we saw in the 2nd of half 2022 did not have a significant impact on transaction activity.

The pandemic in 2020 put a number of transactions on pause, but the market quickly rebounded in 2021.
Out-of-state buyers only accounted for 14% of the total buyer pool within Evanston over the last 5 years. Local investors have proven to be the most active and aggressive investors for Evanston apartment buildings.
Summary
How will things play out in 2023?
Q1 of 2023 Evanston saw zero total multifamily closings over $1,000,000. However, don't rule this year out just yet. Many of the owners in Evanston are generational owners and often times a "life event" needs to happen in order for the decision to sell to occur. Based on our local pulse on the market, we expect to see transactional activity pick up and those investors with a long-term investment horizon will be presented with some great opportunities to acquire properties this year.
*CoStar data for sales ranging from $1MM-$50MM
Recent Interra Realty Evanston Sales